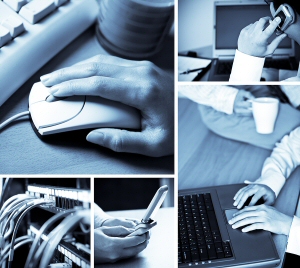 Here at HoffmanWeb/ Solutions & Marketing, we are not a retail hosting provider; but we do offer our clients managed hosting service as a part of their ongoing Web Service package. The difference is that retail hosts create server space and provide their customers with access where they set up and maintain their own file servers and software, whereas we handle all server related functions because our average client does not have server management background. Our highest priority is security. We go to great lengths to protect the web properties of our clients. Because of this, we make the promise to our clients that no one except our own HoffmanWeb-authorized technicians will have access to our file servers.

When we design a website, we always build-in the capacity to manage the core web page content through a front-end password-protected login. Thus, our clients may edit their website if they wish, but without the need to navigate either the website's back-end administrative module or the file server.

We directly manage our web servers which are housed in a secured data center and maintained by a staff of on-site technicians whom we have hired to maintain the hardware. Our equipment is state-of-the-art, and our software is updated constantly to be the latest versions.

We monitor our servers around the clock, and we know within minutes if/when there is a problem. In addition, although we keep daytime business hours, we monitor our telephone system for calls reporting a website down; and we respond as quickly as possible if/when that occurs. We are proud to note that our servers show a very high performance rate, consistently.